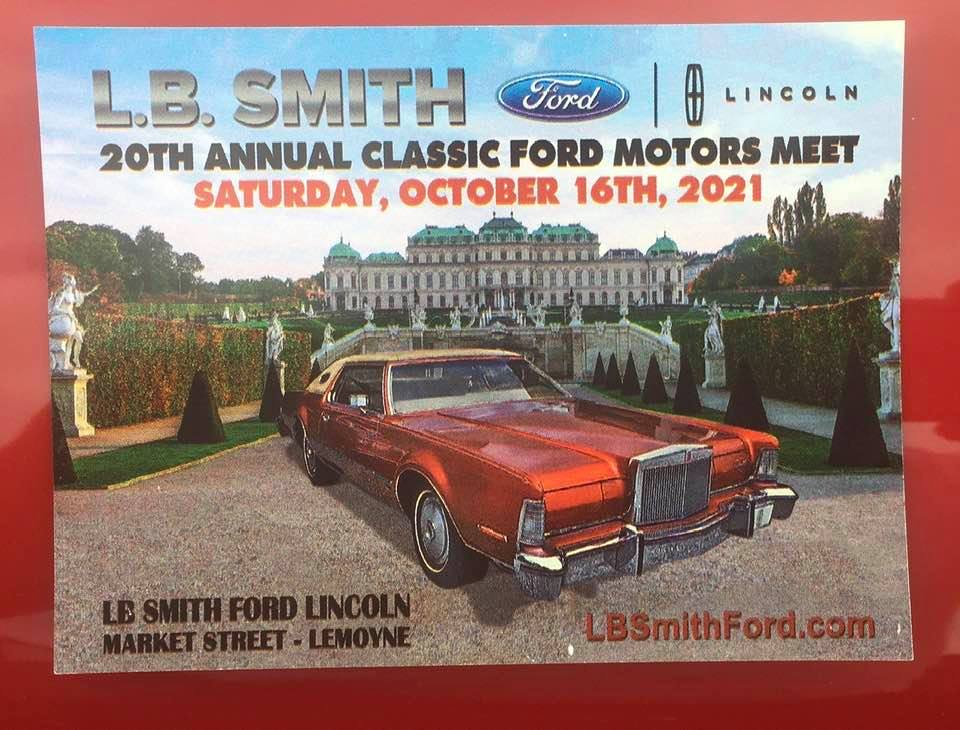 16-Oct-2021
1100 Market Street
Lemoyne, PA 17043
The weather was cloudy until 1:00 when it rained for about 15 minutes. The forecast was for solid rain all day. Did not deter the 47 show vehicles.
---
Keystone members present:
---
As with other photo galleries on this site, click the image to enlarge, then back arrow to return.
Amy's album:
Andy's Album:
Bruce's Album:
Prior L.B. Smith photos
Date________
Event
Location
Comments
2023-10-07
LB Smith All Ford Show
1100 Market St.
Lemoyne, PA
Saturday 9-2:00
2022-10-08
LB Smith
Lemoyne, PA
Gallery
Long time Keystone sponsor.
2021-10-16
L.B. Smith
Lemoyne, PA
Gallery
Keystone assists with parking show cars.
2020-10-17
L.B. Smith Ford Show
Lemoyne, PA
Cancelled
2019-10-19
L.B. Smith Ford Show
Lemoyne, PA
Gallery
2018
LB Smith
Lemoyne, PA
Gallery
2017
LB Smith
Lemoyne, PA
Gallery
2016
LB Smith
Lemoyne, PA
Gallery
2015
LB Smith
Lemoyne, PA
Gallery
2014
LB Smith
Lemoyne, PA
Gallery
2013
LB Smith
Lemoyne, PA
Gallery
2012
LB Smith
Lemoyne, PA
Gallery
2011
LB Smith
Lemoyne, PA
Gallery
2007
LB Smith
Lemoyne, PA
Gallery
2006
LB Smith
Lemoyne, PA
Gallery