We decided to go to the LCBC Church Car Show on Saturday even though there was a good chance for rain. The main show was canceled but they had doughnuts and coffee for those that showed up. This show usually has over 1000 cars. We hit a little rain on the way, and it was "Dripping a Bit" (PA Dutch) when we got there. We went in for coffee and doughnuts. That took about 20 minutes. We went back outside, and the rain had stopped. We set up our chairs and I wiped off the wagon. We were the only Falcon at the show. I got several comments about the Keystone 4 lug mag wheels. It started to rain again so we headed home. FYI: The vacuum wipers worked great. I love to turn them down to a slow crawl and watch the people look and wonder what is happening. I attached a few of my favorite pics.
Bruce & Pam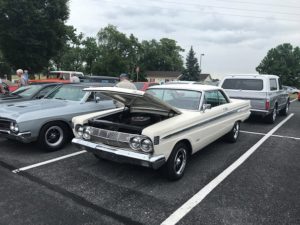 ---
We are excited to announce the 22nd Annual LCBC Motorsports Show will be held on June 11, 2022 from 9am-2pm at LCBC Manheim!
This is a FREE event for all ages – attendees are welcome to enjoy free Giant donuts, coffee, snow cones, and ice cream! Hess's BBQ, Bricker's French Fries, and LCBC's Cafe will also have food available for purchase.
Bring the whole family and make memories this summer as you explore activities like R/C car racing, inflatables, and face painting, in addition to checking out hundreds of vehicles – from the classics to the exotics, and even land speed racing cars! There is something for everyone!
The Motorsports Show is open to all makes and types of vehicles, including motorcycles and scale models. Bring your street rod, muscle car, exotic, sports, race car, foreign, tractor, low rider, custom, chopper, trike, cruiser, and more! To enter your vehicles to participate in the Motorsports Show, pre-register here or register the morning of the show beginning at 8am. Registering your vehicle is also FREE! Show entrants are eligible for door prizes and custom made award trophies.
LCBC Church
2392 Mount Joy Rd
Manheim, PA 17545