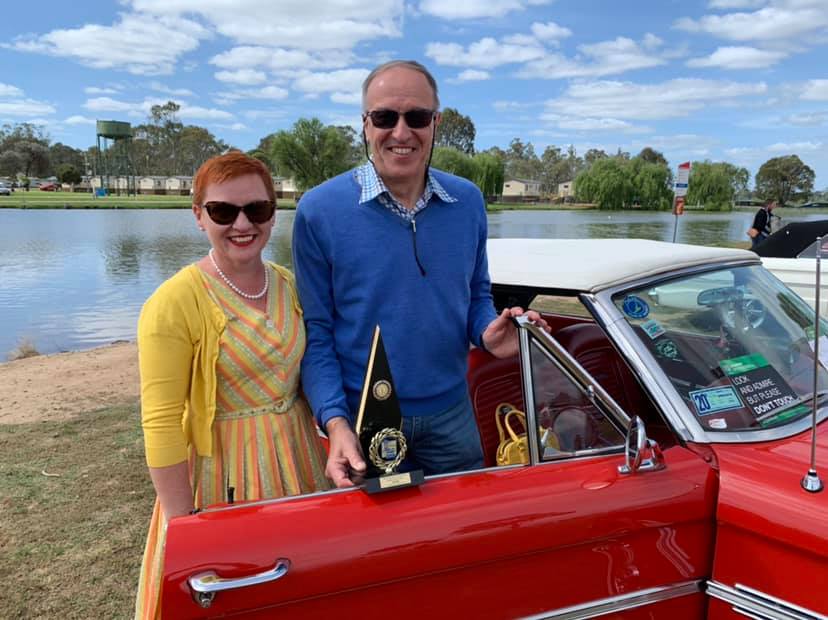 Chris Shead is my name and I live in Sydney, the capital of the state of New South Wales, in Australia. I currently have a lovely 1963 Sprint convertible in Rangoon Red, with red interior and a white soft top. I bought this car in 2011, but my Falcon story started 4 years earlier …
In 2007 I bought a one owner, 6 cylinder, bench seat Futura convertible that had been imported into Australia by a friend. It came from Huntington Beach LA and had been cherished by its first owner since new. It came with two huge folders of receipts, registrations and photos, so I had all but a complete history of the car. I improved it with much detailed work, but all to an original state. The work centered around fully detailing the engine bay to a show standard and replacing all rubber items etc. I redid the brakes, but important items such as the engine, gearbox and suspension had been replaced or reconditioned by the previous owner – and all with less than 30,000 miles on them. I learnt a lot about 1963 Falcons with this car, and in particular what was original and what wasn't.
I really enjoyed that car, so much indeed, that I decided I wanted to buy the top of the range convertible. Who wouldn't given the V8 and relative rarity? Four years after buying the Futura the search was on and I found a nice Peacock Blue job on EBay that had been restored for commercial sale. It looked very nice and I rang from Australia to inquire. As it turned out it sold offline, but I asked the seller if he knew of others. He rang back a few days later to say that he had wanted to downsize his own fleet, and that he would sell his own Sprint convertible, as it was just one of his many cars. When he mentioned it had factory power steer and air conditioning I was very interested. He sent a large number of photographs which showed a very solid and seemingly beautifully restored car. It was not practical to inspect the car myself of course, and I had no trusted contact to undertake an inspection for me. I carefully looked at all the photos and decided to take a leap of faith and go ahead with the purchase when we had agreed a price. I awaited the cars arrival, and thank heavens, when it did I was not disappointed. It was a beautiful car and the quality of the work was done was very evident.
But, of course, me being me, I couldn't help myself in improving the car's details. There were a few earlier owner-made changes that were not original and there were some hidden issues that I wanted to check and/or improve. So within two days, the interior was stripped out and the car was on blocks! I found no nasties, but I was able to rustproof all the nooks and crannies in the side quarter window area and the quarter panels. I could paint the interior floors with sealer paint and check the wiring. The interior of the doors were amazing, more like a factory finish they were so clean and rust free! Of course Ford seemed to have a paint policy of "If you don't see it, then we don't paint it!", so areas like under dash etc can benefit from some attention to preserve them for the future.
I also redid the brakes completely using all new parts and silicon fluid, and checked everything thoroughly. I also changed all rubber hoses and improved the already good level of detail under the hood to a concourse level. I spent a lot of time getting things to this high level, but I recognized that there are some glaring non-original aspects to the engine bay, such as, it's in body colour, has an alternator and a Sanden AC compressor. If I turn a blind eye to those, then she is essentially original in all respects. I did a lot of small jobs on the car, but with my busy work at the time it was a year till the car was ready for the road again.
The mechanical rebuild of this car was first class. Everything was so well done. It runs beautifully and has done several 1500 mile trips interstate to our national events. To this day it leaks no oil and and has only a smeary weep from the transmission pan but it doesn't drip. The only fresh oil drops under the car when resting are from the oil separating from the lithium grease on the ball joints!
My car has won 'Best US Falcon' 4 times at our Nationals, including 2019, but with a car essentially restored in 2004, I think I can't compete at the top level any more with the growing number of fresh restorations. This is of little concern though, as she remains a beautiful car and is a credit to the US owner and the work he first put into her. She runs beautifully and my partner, Stevka, and I like to take her to club runs and our local Coffee and Cars events. We also have two other cars, a 1987 Camaro IROC Z, and a '61 AMC Metropolitan, so the issue for us is always time, and there being insufficient Sundays in a month!
I only joined the FCA in recent years and it has been a great pleasure to have come to know Bruce Wolfe. Bruce has been a great help to me as a Falcon owner 'far away', and it is through him that I have asked to join your Chapter of the FCA So thank you for allowing me to join!
Cheers!
Chris Shead
---
6-Feb-21: As for the Met, yes, I got Ethel registered just this Monday gone. I have it on our antique rego system so we can take her out 60 days a year plus club runs for $45. She is running ok with the new engine, but there is more raw power to unleash. I feel some of those 55 horses are still in the stalls!
The pic shows us on our only run in her so far, with me looking suitably daggy in my old work shorts. We ventured to the other side of my suburb to my sister's place. I'm taking it easy! We have lots of steep short hills around my place, so until she is proven and has power, I'm limiting how far I go. I'm very reluctant to take her anywhere near the nemesis of any small and underpowered car – that is the FREEWAY 😮😮😬.
I have to get tyres for her – the current ones are unworn but old. They are an obsolete size here and the only ones I can get are Chinese crap. I'm still looking. I'm also thinking of a four speed floor shift from a contemporary Austin. That way I get one more gear and synchro on the top three.
Keep well over there. We have a normal life in most respects now, but any issue and we go back to certain restrictions. It's a pain for sure, but we are so much better of thanEurope, UK and the USA, so we are pretty thankful.
Cheers
Chris
---